AGREE! (Conflict Resolution Workshop Course) Certification
Turn Conflict and Confrontations Into Collaboration.
Lead Any Opposing, Conflicted Groups to Agreement: Functions inside an organization, labor-management relations, cultural differences, political antagonists, and more. 
Early-Bird Savings! Order Now and Start July 8 Online Certification Process to Learn to Lead Others to Agreement. Use it with employees or clients unlimited times.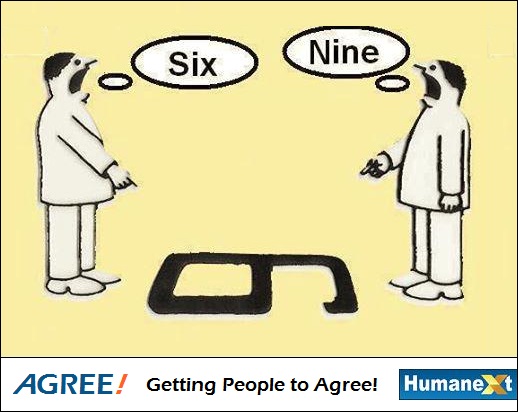 Your Most Critical Influencing Skill: Speak the Language of the Listener:  
When you speak to an audience in your own language, not theirs, they will not get what you want to say.
Even if you and your audience speak English fluently, you might still not be speaking their language if you speak in technical or personal frame-of-reference that they do not get.
Speaking the language of your audience must involve speaking to their interests, not just yours.
Same result if you speak to their minds only, ignoring their emotions.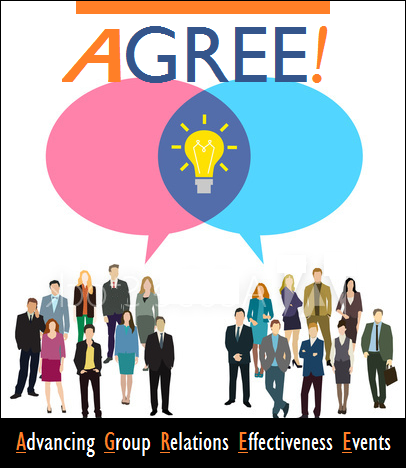 This is just one of the many vital principles and applications you will learn and then teach others to master the skill of reaching agreement and working together. This is what the "AGREE" process delivers.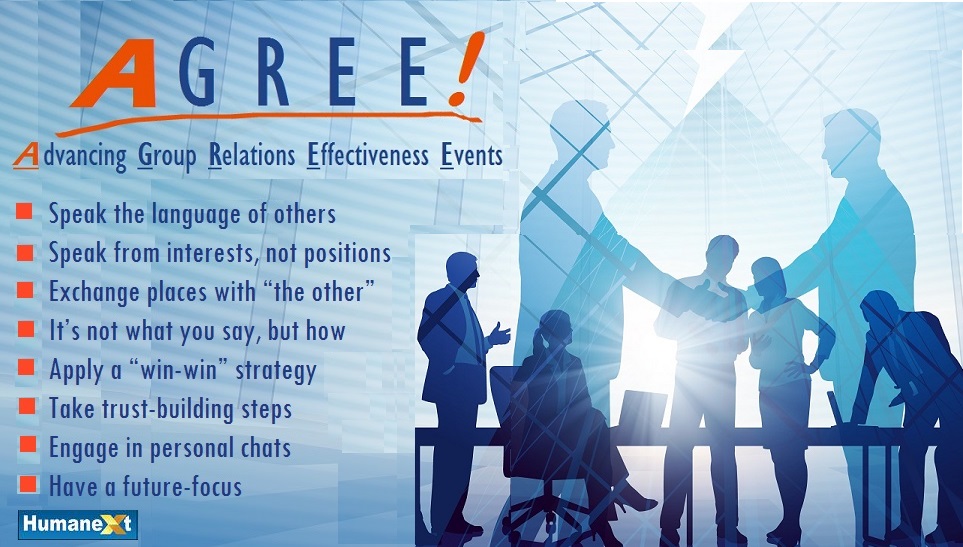 AGREE (Advancing Group Relations Effectiveness Events) is a unique, innovative course / certification that gives you, in weekly segments, everything you need to conduct a one day workshop, or a series of meetings / events / workshops to enable groups on different sides of an issue or conflict to bridge the gap and come together in effective working relationships. 
The workshops / event(s) enable trainers to lead groups to improve relations, resolve conflict, and reach agreements better and faster. Groups that seek better relations, and those desiring to reach agreements with others, can benefit from these structured sessions (events) by learning and applying techniques for conflict resolution, win-win negotiations, and cross-function skills.

In structured workshops / events, that can also be done in "learn-at-lunch" type events, help groups that need to improve relations with other groups, functions, teams, clients, departments, or merging / reorganized companies and entities. 
The skills covered include:
- Win-win negotiation skills.
- Conflict resolution skills.
- Credible communication skills.
- Trust-building strategies.
- Courage building strategies to make the tough decisions needed to reach agreement.
The workshops / events deliver positive results in many situations including:
- Labor-management relations and negotiations
- Inter-departmental relations
- Conflict resolution between groups, countries, cultures
- Divisions along political or cultural divides
- Improving relations in merger and acquisition situations
The certification occurs online in six weeks or more depending on your pace, starting with our Heart & Mind Learning Process to become a great facilitator on any topic, then you delve into the AGREE process.
You will get a Leader's Guide, Slides, and reproducible Participant Workbook, with activities and written assignments and coaching feedback from HumaNext.