Applying Emotional Intelligence Workshop
Order Today and Save!
A Comprehensive Training Workshop Package on Emotional intelligence (EQ) for up to two days of training.
EQ is one of the hottest topics for training and coaching today. 

Acquiring the ability to deliver workshops on emotional intelligence will significantly enhance your ability to offer the latest skills to your managers, employees, or clients.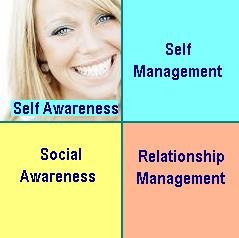 Our program is based on the Daniel Goleman model, covering self awareness, self management, social awareness, and relationship management. It gives you what you need of concepts, research background, activities, case studies, and discussions to deliver from half a day to two full days of training on emotional intelligence at work.
This is an electronic product in MS Word that's customizable to meet your training needs. It comes with a detailed Facilitator's Guide, PowerPoint slides, and reproducible Participant Workbook for unlimited copies to unlimited trainees. The electronic program files will be emailed to you within 24 business hours of your confirmed order.



How Participants Will Benefit
Leaders, managers, supervisors, and professionals taking this powerful training workshop will:

Gain an honest and accurate awareness of themselves.
Monitor and manage their own emotions and behaviors for their own benefit and that of their team and department.
Have a positive influence on the emotions and motivation of others.
Develop cohesive, emotionally intelligent teams that produce breakthrough results
Create an atmosphere that fosters emotional intelligence, respect, collaboration, and creativity.
This ready-to-deliver customizable, reproducible trainer's package comes complete with a Facilitator's Guide, PowerPoint Slides, and a master, reproducible Participant Workbook for making unlimited copies for unlimited number of trainees in classroom style workshops.