Be The Change Training and Coaching
Pre-Order Now at Low Introductory Prices and Start January 15. Choose Level A, B, or C from the menu.
Be the Change: Reinvent Yourself, Your Work, Your World. Then Coach and Train Others.
Online program of self-development, then use its materials to coach and train others to enable people and organizations to "be the change" they want to see.
People at every stage of their lives seek to achieve their dreams, a challenge that often requires reinventing themselves, discovering their talents, and growing their strengths. This program helps you coach and train them.
​Personal change is one of the most exciting journeys people can take. With this program, you can deliver to your clients a highly exciting process to do just that. Choose from three levels: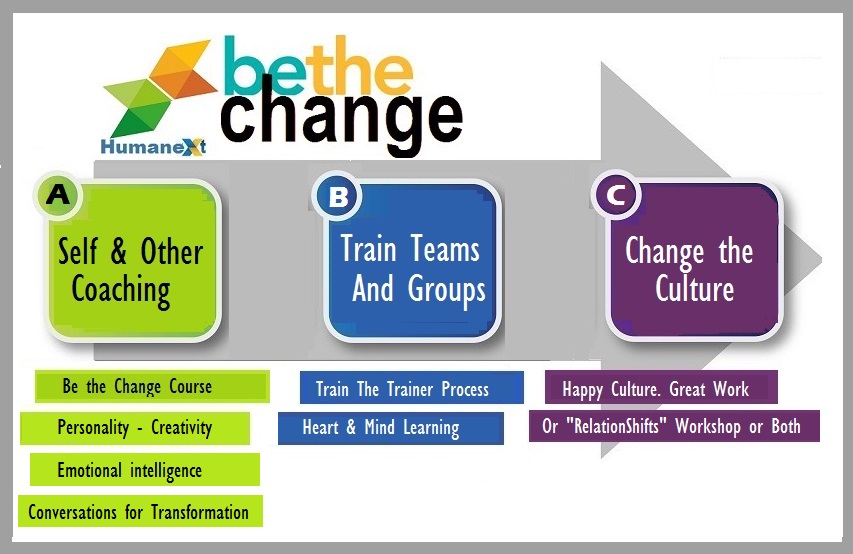 Level A: Coaching Self and Others
"Be the Change" 8-Week Course with Written Coaching Feedback
You will learn the rich and surprising "Be the Change" course and receive written coaching feedback plus all the materials, assessments, and slides to use in coaching others to "Be the Change" (Cannot post it on internet / intranet). It covers: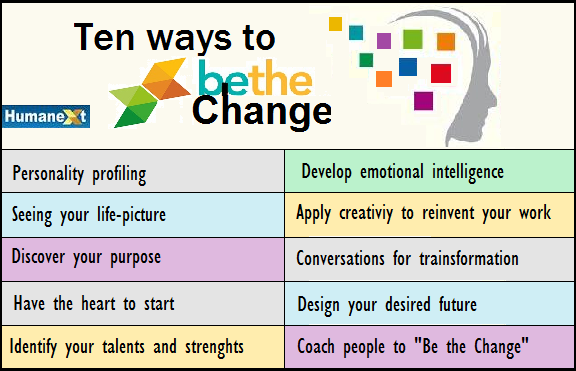 1- Assessments to discover your key personality patterns and style.
2- Activities to see your life's picture, and identify your drivers and life-themes.
3- A process to discover your genius, purpose, and life calling.
4- An approach to develop the "heart to start", acquiring the courage to begin the change challenge.

5- Develop your whole-person talents and key strengths.​

6- Use emotional intelligence to develop awareness and self confidence.
7- Develop your creativity and apply it to reinvent your work and your career.
8- Apply "conversations for transformation" practices to influence and inspire.

9- Design your desired future, including becoming the change you want to see.​

10- Use "Be the Change" to coach others and help them be the change they seek.
Level B: Training Teams and Groups (Everything in Level A, Plus..)

Train The Trainer with Heart & Mind Learning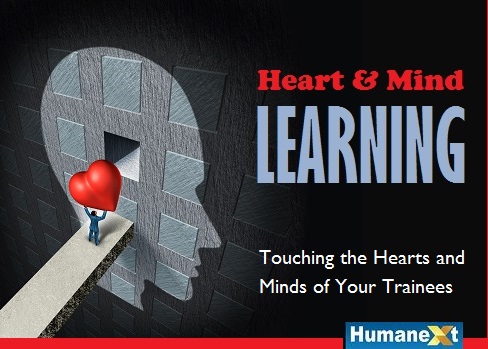 - If you don't arouse the heart, you can't engage the mind.
 - If you don't offer inspiration, you will waste the information.

These are just two of the many powerful "Insights" that drive the dramatic techniques of "Heart & Mind Learning methodology you get in Level B of "Be the Change" program.
Train-the-trainer with Heart & Mind Learning is a process that uses recorded webinars, slides, and facilitator's guide to enable you to turn any training session into a transforming learning experience for trainees.

This is done by a wealth of training concepts, best practices, activities, stories, role-plays, and trainee engagement techniques, including revolutionary methods like "Learning by Teaching", and many more. It's a whole new approach to delivering powerful learning.​​ Trainers with many years of experience told us they thought there was nothing new to learn but have learned from this program valuable tactics and activities that dramatically changed the way they deliver training and presentations. 
Level C: Changing the Culture (Everything in A and B, Plus..)
With the powerful facilitation techniques you learned in Heart & Mind Learning, you are ready to deliver exciting change-based training to your employees or clients unlimited number of times with reproducible workbook. 

You can choose one or both of the following workshops, at varying fees:

Choice 1: Choose Any One Workshop: Happy Culture, Great Work Process and Workshop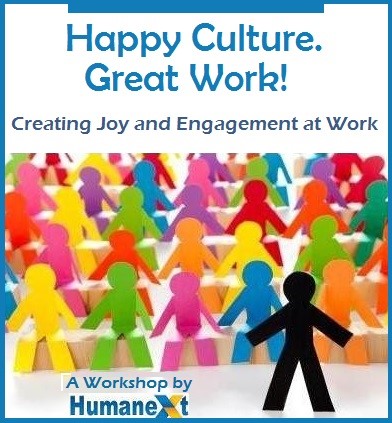 You can help organization departments and groups create a positive culture with the "Happy Culture, Great Work" process and training workshop. 

Act as the ultimate consultant-trainer and guide your organization, your department, or your clients to create positive change in their work by changing the culture. 
Choice 2: Get Both Workshops: The Above + Relation-Shifts Training Workshop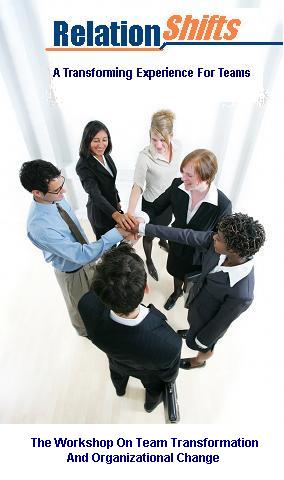 ​"Relation-Shifts"creates team transformation experience, changing how people relate to their work, their colleagues and their organization. The result is a rejuvenated team working on a higher level of commitment to achieve results. It is a unique team transformation and culture change program.​​