Become a Great Trainer Program
Online Train-The-Trainer to Become a

Great Trainer

on Any Topic, Plus a Complete Workshop to Deliver. You will become a Member Trainer of iTaC (institute for Training and Coaching" and get a certificate after completing the program online.


You will learn advanced training techniques to become a better trainer on any topic with our
Heart & Mind Learning Methodology.
Heart & Mind Learning (H&ML) is a methodology that turns ordinary training sessions into extraordinary learning experiences.
It is based on the following principles:


If you don't arouse the heart, you can't engage the mind.
If you don't offer inspiration, you will waste the information.


People don't care how much you know until they know how much you care.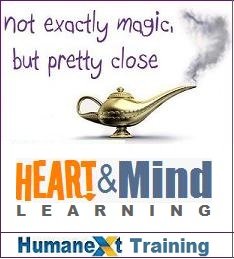 H&ML offers a battery of concepts, techniques, stories, exercises, activities, role-plays, simulations, and best practices that enable you to design and deliver more meaningful and exciting learning experiences previously thought to be unattainable.

In the easy-to-use Template format, which you can just copy and paste, you get a wealth of role-plays, activities, exercises, puzzles, stories, poems, discussion questions, models, and every other tool and tactics available to make your session a memorable learning experience for participants.​​
You will learn online via webinars, and a special website (Wiki) where you can share your experiences and learn from the experiences of many other trainers and facilitators, in addition to feedback from HumaNext President and developer of the Heart & Mind Learning Methodology.
You will learn how to start your session with "Dramatic Openers"
Learn techniques to start the learning journey even before learners arrive, and continue after the session
Use "Fast and Fun" short activities to interject excitement to any session
Use stories and real-life events to give life to the learning
Learn ways to connect training to life and make it relevant to participants
Numerous other techniques that turn any session into a great learning experience.

In addition, you will get a complete workshop to deliver to employees or clients in classroom style sessions unlimited number of times.
You will get the complete "Listening for Understanding, Communicating for Commitment" workshop package, with a Leader's Guide, a Set of Slides, and a Reproducible Participant Workbook.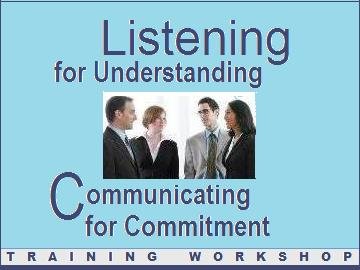 "I wish I took this training before my secretary quit" is what a director wrote in his evaluation of "Listening for Understanding, Communicating for Commitment" workshop It delivers skills in speaking, listening, giving feedback, and resolving conflict.

What People Said About Heart & Mind Learning: