Building Courage Course, Workshop, and Coaching
Develop Courage in Yourself and Others with this e-Course with Written Coaching Feedback: Use the content for training or coaching others.
"Courage is the first virtue, because it makes all the other virtues possible" - Aristotle

Courage is the premier personal skill for any leader and any person, largely neglected by most leadership and personal development programs. Till now!
Use the materials of this six week e-course, with assessment and personalized written coaching, to develop your competence as well as that of your team or trainees, using reproducible content and assessments, and on-the-job action learning activities. Use it in coaching sessions or classroom workshops to train employees or clients.
Order at $200 Off and start on January 28 , 2019 

This may prove to be your most important, most successful training ever!

A Unique Combination of e-Course, Assessment, Workshop Package, Plus Action-Learning  and Coaching Program. Six weeks of learning with weekly emailed materials, experiential development activities, on-the-job practices/ action-learning and written coaching feedback. 
Utmost Flexibility:
You can use the materials to train or coach your audience in a full day workshop, two half-days, or six segments of coaching or "learn at lunch" sessions.
Bold leaders are not pushy, bossy, or aggressive. They do take charge, speak with confidence, and inspire others. 
These are the capacities this course builds in you and your team.
Many smart people sabotage their own potential by neglecting to develop and deploy their own courage. Instead of taking on positions of leadership, they settle for positions far below their level of abilities. 
Finally, there is a development course / workshop that focuses on this vitally critical and teachable skill.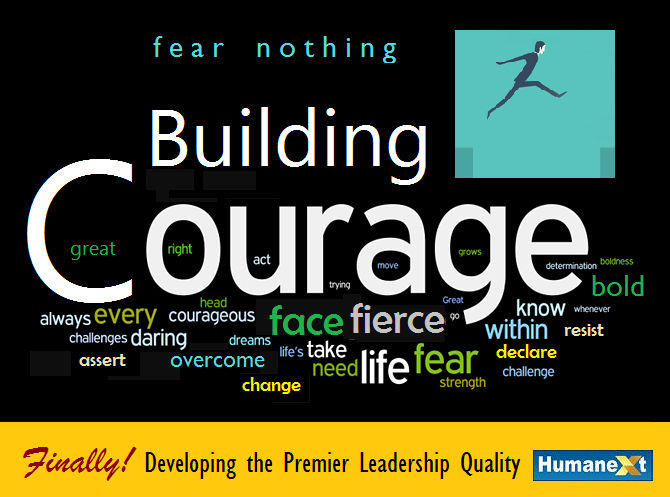 Use the materials for self-development, and for training and coaching your team on developing courage in all aspects of work-life.
A must have for leaders, managers, entrepreneurs, and aspiring change-makers.
You can use the versatile course materials in several ways:
 To assess and develop your own leadership courage 

Include parts or all of the materials, concepts, and exercises in leadership development programs in a workshop format.

Use the concepts and activities for developing teams or departments in on-the-job, action-learning formats.

Use the materials to coach others in your team on building and exercising courage.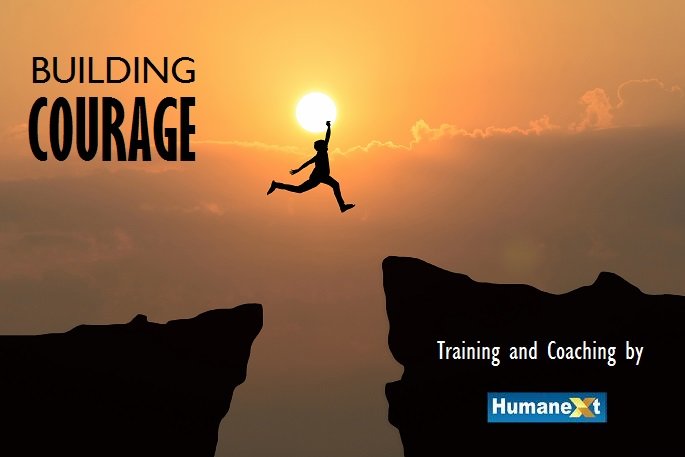 The program delivers a rigorous course of action-learning, where concepts are presented and supported by experiential activities, on-the-job and real-life practices and assignments that turn the insights into impact.
The program helps you answer the following key questions:
Where does courage come from?

What is the source of courage-based action?

Is courage related to emotional intelligence? If so, how?

What inner resources can I draw upon to build courage?

What outside resources can I mobilize to arouse courage?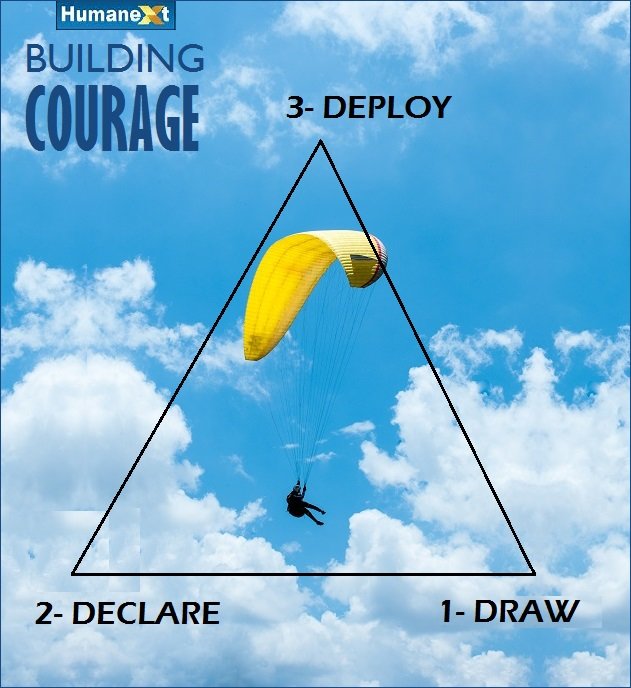 The program uses a powerful three-phase-model of emotional and practical phases to build the required energy and determination of building courage. The practical, easy yet powerful model consists of the three phases of "Draw, Declare, and Deploy". 
1- DRAW
In this phase you learn to building the courage to "Draw" 
(Moving toward, creating lines of sight to your goals, dream it, design it, think of worst scenario, cost of inaction, see it in action).
2- DECLARE


In this phase you learn to build the courage to Declare It 
(Articulating your goal or vision, clarifying it, announcing it, explaining it, communicating with others effectively to inspire and influence them about it. Utilizing the innate power of determination and declaration).
3- DEPLOY
In this phase, you learn to build the courage to Deploy your goals or vision 
(Mobilize resources, trying out. Acting and playing the role - fake it till you make it. Taking first step.)