Become a Great Coach Program
Become a Great Coach and Deliver Personality Development Coaching using Emotional Intelligence, More..
Order Today for Significant Savings!
1- Coaching Course: Coach Yourself and Others

For Leaders, Coaches, and Consultants, with Personalized Feedback and Certificate
The Next Best Thing to Having a Live One-to-One Coach at a Fraction of the Cost. You Get Personalized "Written Coaching Feedback" from HumaNext, in Addition to Learning from Other Coaches' Experiences
While most coaching programs focus mainly on the methodology of asking questions, we go beyond by providing you and your clients with powerful tools, tactics, and templates to help you and them grow and achieve great professional and personal goals.




The Coaching Course is the next best thing to live one-to-one coaching as it includes "Written Coaching Feedback" from a HumaNext resident coach. The coaching feedback is given on the three most vital self-discovery exercises you will do as part of the Course.

You will go online to our interactive "wiki" type website to share your responses to some of the significant questions and assignments of the Course. You will get our written feedback on your experience with suggestions to move forward. You will also learn from the wealth of experiences and insights shared by hundreds of other trainers and coaches on our wiki site, under several key skills that relate to your coaching, particularly the skills of emotional intelligence, creative thinking, and
This "Coaching Course" is a
self-learning, self-coaching
course where you get, by email and online, powerful tools, templates, training, activities, assessments, and on-the-job practices that enable you to coach yourself, and then use the tools to coach your team, or your internal or external clients.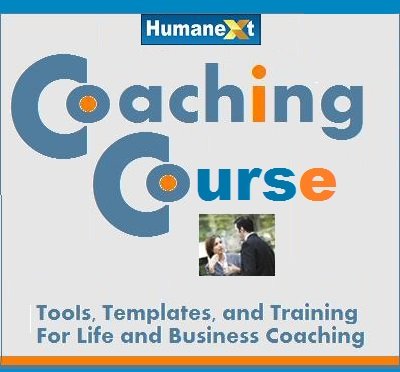 You use the tools, templates, assessments, activities, and methodologies to develop yourself, and your team, or internal or external clients.

The Course includes tools and processes from the key areas of emotional intelligence, creative thinking, and compelling communications, the three vital skills of most impact on people's performance and leadership.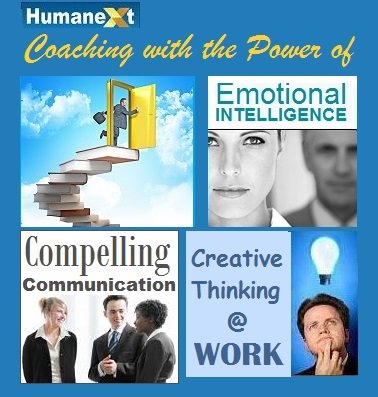 You will get "Written Coaching Feedback" from our HumaNext coach on the three most vital exercises that enable you to discover and develop your life calling, life themes and values, your genius and talents, and your goals. This is the next best thing to having live coaching sessions with a coach, usually given at significantly higher fees.
Proven tools, templates, and assessments that have been used by HumaNext with clients in leading organizations, and with trainers and coaches in Train-the-Trainers sessions, with highly positive feedback and results.

The tools, templates, activities, and assessments are function-neutral, so they work and deliver powerful results with various functions, areas of work and practice, and position levels.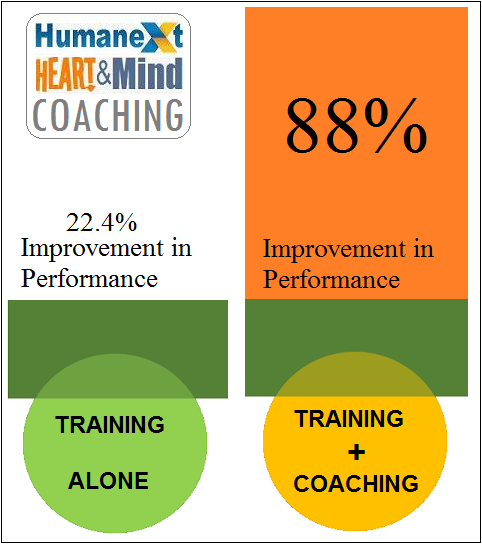 Unlike reading a book about coaching, what you get here is a

Template

, where you copy and paste the models, tools, questions, activities, stories, and assessments to use one-one-one with your coaching clients or team members right away, or modify and use as you need.

This is in addition to receiving personalized written feedback on your key discovery exercises, and learning more from other coaches who share their experiences at our special interactive website (wiki) type.
2-
Personality
Scope
3D Coaching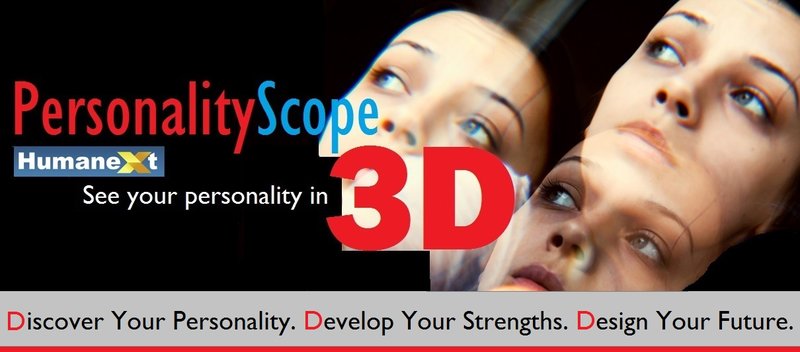 Discover Your Personality and Grow Its Strengths to Achieve Great Goals, then Use the Tools to Coach Others

PersonalityScope3D is an emailed course with online sharing and coaching, with real-life activities and assignments you do in two to four months depending on your pace. It includes written coaching feedback from HumaNext to guide your 3D process of self-Discovery, strengths-Development, and future Design.
The course enables you to achieve the following:
1- Discover your life's main themes and patterns.

2- Reveal your personality's core identity (beyond types).

3- Uncover your genius, talents, and strengths.

4- Determine your life's purpose, your calling.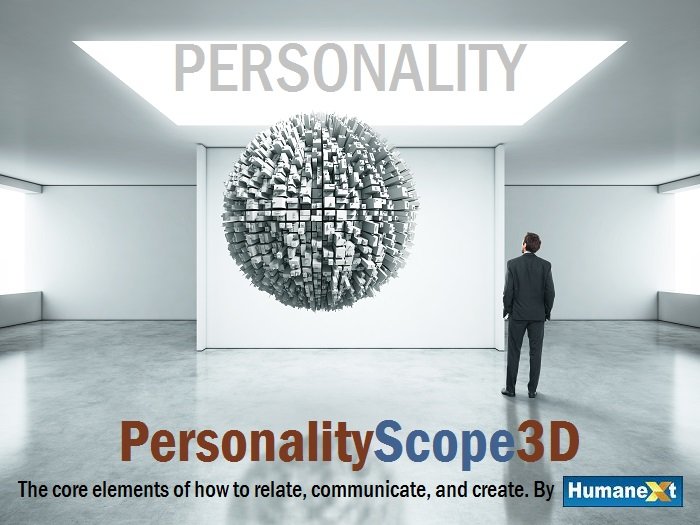 5- Define the goals that will take you to live your calling.

6- Learn the dimensions of your emotional intelligence.

7- Learn to think with creativity and agility to act outside the box.

8- Deploy compelling communications to relate and achieve.
9- Receive written feedback and coaching to guide you.

10- Plan and take major actions to design and create your desired future.
How PersonalityScope3D Works
​

1- The course is delivered in Word documents for one month to three months, adjusting to your pace of learning and practicing.

2- You will receive assessments to do in Word files, but the program goes way beyond assessments alone.

3- You will learn a number of powerful processes to methodically discover the core of your personality, your life's calling, and your talents / strengths.

4- You will receive assignments with practical activities you do with your co-workers or family and friends to practice the models and tools you are learning.

5- You will be invited to post your responses and share your experiences with others online at a special "Wiki" site where you will receive written feedback and coaching from HumaNext.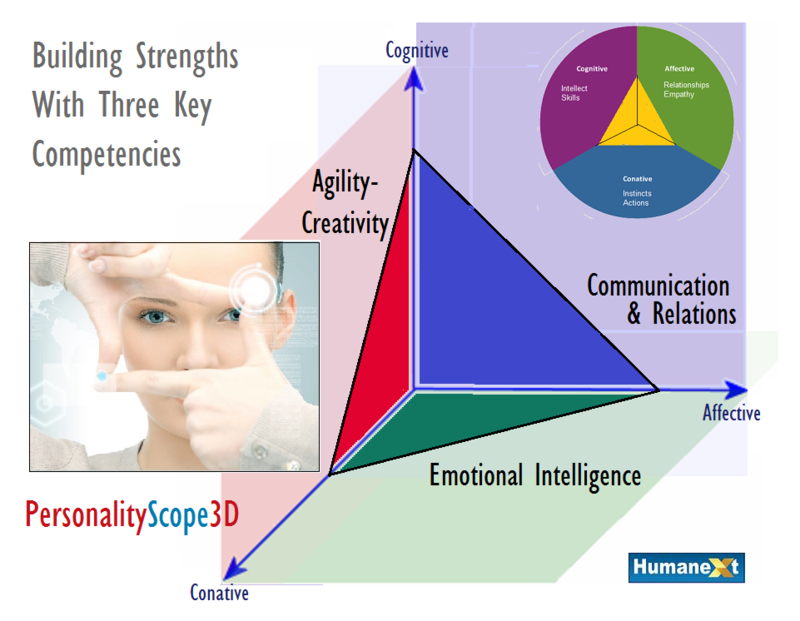 6- You will be able to learn from what others are sharing about their experiences discovering and developing their personality.

7- The course uses concepts and methods from the fields of emotional intelligence, creative thinking, compelling communications, goal-setting, and work-life coaching.

8- Upon completing the course's assignments you will receive a Certificate of Completion.

9- You can use the materials, assessments, models and tools you received in the course to coach others, whether employees, your team, or your coaching clients, in one-to-one coaching sessions, but you cannot sell, post, or include the materials fully or partially in internet / intranet or other digital media courses or webinars- for which you need an Organization License or a Special License. (Contact HumaNext).

10- You will receive support by email for up to six months.​