Coaching One-to-One
Leap beyond your limitations. Achieve career and life goals.


Get Coached One-On-One by Phone or Skype + Assessments + On-the-Job Actions.
You May Choose from Five Areas, a Mix, or Other Areas with a Focus on Your Goals: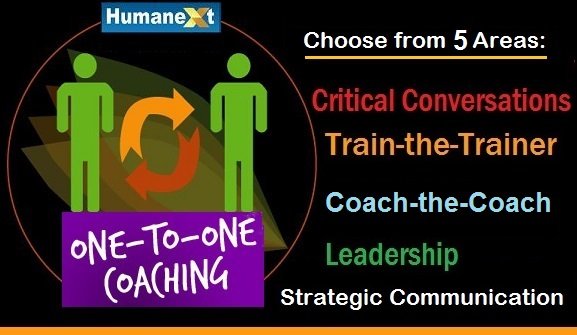 You can get coached in one or a combination of the following areas / fields of work, or in general work-life challenges:
1- Critical Conversations:

Learning to talk and present best when it matters most. Covers key communication skills.
2- Leadership:

For all leaders, managers, supervisors and team leaders to develop effective leadership competencies.
3- Train the Trainer

: For trainers and consultants who want to sharpen their training design and facilitation skills.
4- Coach the Coach:

For persons who want to learn the models, techniques, and tool of coaching and use to coach others.
5- Strategic Communication:

For corporate / Organizational, and Employee Communicators who want to sharpen their competency in thinking and working strategically, creating strategic communication plans, audits, and campaigns.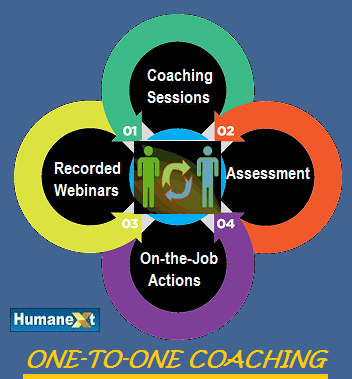 You get coached by phone in privacy, spending 45 minutes each.




Your coach is Francois Basili, President of HumaNext. 

You will do assessments to map your current strengths and needs.




You will receive a work sheets, documents, and tools as needed.




You will get assignments to do or read between the sessions.




You will get access to recorded webinars to learn as needed.




The coaching is highly customized, focusing on the goals you want to achieve.

May continue if you need to.

You will receive a Certificate of Completion of the Coaching Program upon completing all sessions and assignments.
First 2 Months - 4 Live Sessions + Webinars + 8 Action-Tools: Regular Fee is
$995


To Continue (optional), Each 2 Months (4 Live Sessions + Webinars + 4 Action-Tools) Fee is 
$790