Communicating to Connect and Influence Certification
Order Now to Save! For Trainers and Leaders. Online Certification - The Most Comprehensive Communication and Influencing Training Program!


Communication is the number one challenge for most managers!
Become the Communication Expert at Your Organization or for Your Clients to Help with People's Communication Challenges Today.
Get Certified Online and Deliver the Program Unlimited Times. Powerful R.E.D. Model Applicable to Manager Communications, Sales, Customer Service, and Teams.
  
"I wish I took this training before my secretary quit"
- A Department Manager at a New York Healthcare Organization


Get Certified Online in 6 Weeks to Train and Coach Employees or Clients on a Powerful Communication and Influence Program of Assessment, Training, and Coaching. Use it unlimited times for manager-employee relations, sales training, customer service, and team collaboration. Easy to use R.E.D. 1-2-3 model with powerful, visible impact.
Communication is the number one challenge identified by most managers. Now you can help them overcome it successfully.
Help people identify and develop the personality behavioral patterns that are crucial to their success with this powerful program.  
Use the Materials, Assessments, and Tools to Train and Coach Employees or Clients on People's Highest Challenge at Work: Communication!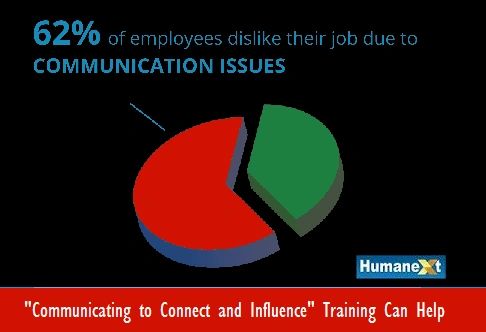 Communication has three main purposes:
To connect with people to build rapport and teams

                   

 (Relate/ Feel/ Support)

To inform, report, learn, evaluate / think 

    

    

    

    

    

    

 

    

                 

(Evaluate/ Think/ Inform)

To influence people to change belief and behavior

    

  

                        

 

(Invoke Action/ Do)
This training program enables people to learn and master the three main purposes of communication.
You learn and teach a powerful communication model that enables managers to quickly connect and influence people to evoke action for results. The model is based on communication insights gained from research in emotional intelligence, positive psychology, and hundreds of training sessions facilitated for thousands of managers from around the world. 
The approach used by this training is designed to be both powerful and practical, providing managers with specific easy-to-use method of relating to people and inspiring them to take bold action. You will learn the powerful RED Model (Relate, Evaluate, Do) for connecting and influencing people with communication that is fast, compelling, and applicable to any situation.
Here is a graphic presentation of the RED Model: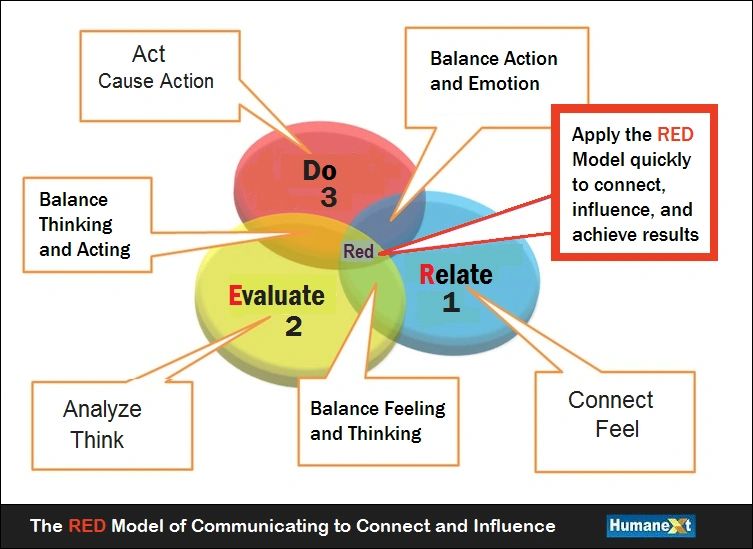 The training starts with assessments of both personality patterns and communication style. It moves to provide practical experiences for using the RED Model in a variety of critical encounters at work. The powerful impact of the Model is quickly realized and appreciated by participants. The result is the creation of a culture of open, honest, and impact-driven communication that creates collaboration instead of conflict.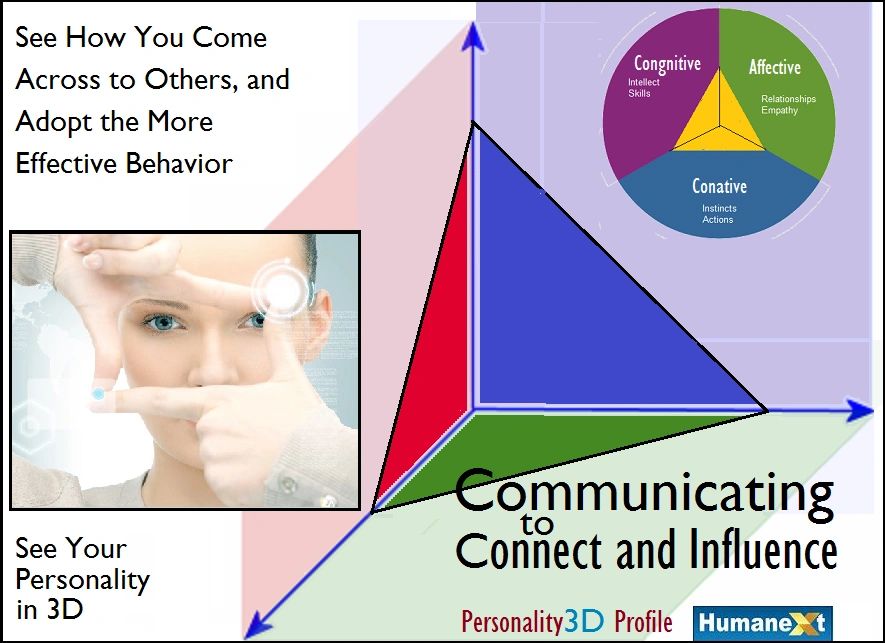 Communicating to Connect and Influence Certification is an online process that includes emailed course with written coaching feedback by HumaNext, with concepts, assessment, and assignments you do in four to twelve weeks depending on your pace. It includes written coaching feedback from HumaNext to guide you through a uniquely powerful 1,2,3

 

process of relating, influencing, and collaborating to produce great outcomes at work and in life.   

 
The assessments, concepts, activities, and assignments enable you to achieve the following:


 - Understand your Preferred Personal Pattern "PPP" of behavior. 
 - Identify others' "PPP" and learn how best to connect and influence them.
 - Deploy compelling communications to relate and achieve.

 - 
Receive written feedback and 
coaching on your communication style
 to guide you.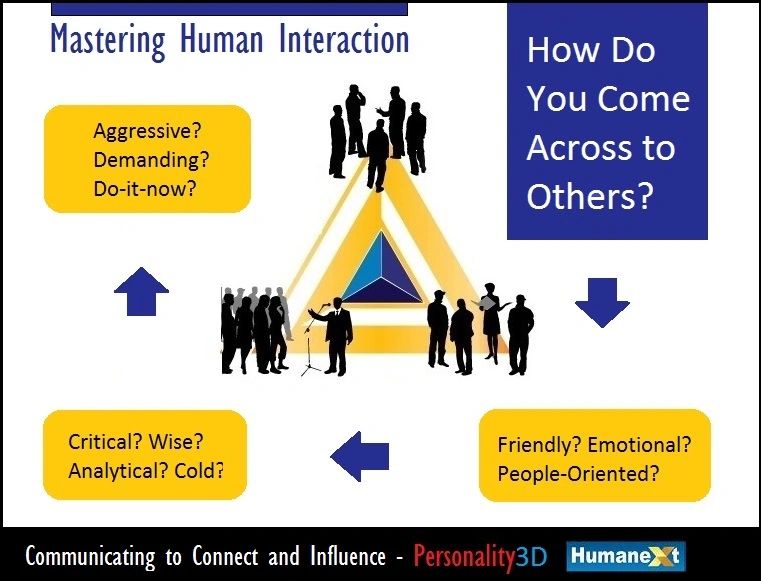 How It Works
​
1- The course is delivered in Word documents for one month to three months, adjusting to your pace of learning and practicing.
2- You will receive assessments to do in Word files and online, but the program goes way beyond assessments alone.
3- You will learn a number of powerful processes to methodically build your capacity to connect with people, identify your and their preferred patterns, and relate and collaborate effectively with them to produce great results.
4- You will receive assignments with practical activities you can do with your co-workers or family and friends to practice the models and tools you will be learning.

5- You will receive written feedback and coaching from HumaNext.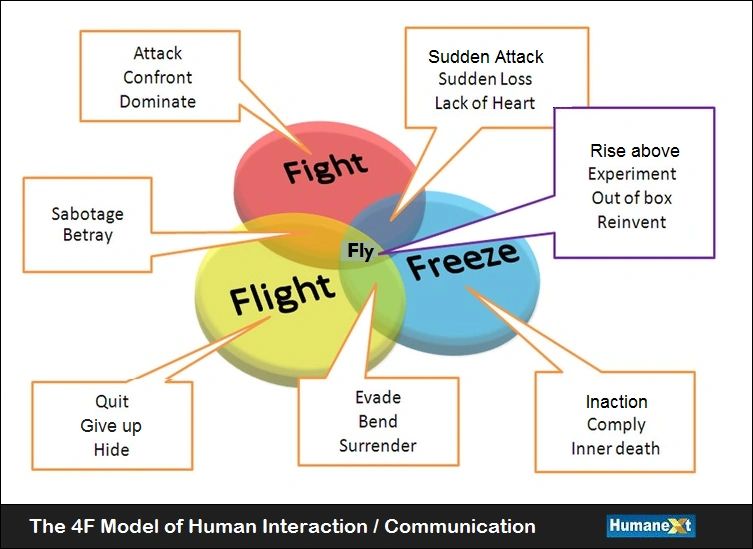 6- You will be able to learn from what others are sharing about their experiences.

7- The course uses concepts and methods from the fields of emotional intelligence, creative thinking, compelling communications, positive psychology, and work-life coaching.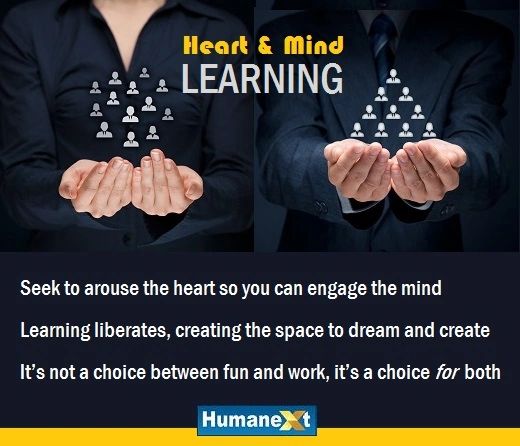 8- You will learn our "Heart & Mind Learning" Methodology for facilitating great training sessions on any topic, not just the topic of communication, and get the Leader's Guide and Slides of Heart & Mind Learning to use forever. 

9- You can use the materials, assessment, models and tools you received in the course to train and coach your direct reports or your team, as well as employees or clients you have. (You cannot include the materials fully or partially in internet / intranet for which you
need an Organization License or a Special License. Contact HumaNext).

10- You will receive support by email for up to six months.​