Content for Communicators
Articles and Cartoons for Your Employee Publications and Presentations
Now you can order from HumaNext a wealth of articles you can use in your print or electronic employee publications and presentations, filling your publication for an entire year, for a modest price.

The articles are designed to inform and inspire employees of all functions and levels. The cartoons add a touch of humor that makes your publication popular. You can pay for one cartoon from a cartoonist more than what you pay here for an entire year of articles, plus several cartoons. Here is one of them..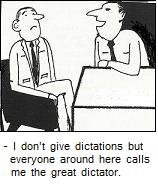 And Here is a Sample Article:
How to Instill Enthusiasm in People at Work
"Nothing great was ever achieved without enthusiasm," said Emerson.
But how can you instill enthusiasm in people so that they can create great things? You can't send a memo to everyone demanding that they must have enthusiasm. And it will not do any good to just explain Emerson's idea that nothing great was ever achieved without enthusiasm. People cannot be forced to be enthusiastic. So how can you create a culture where enthusiasm is natural and continuously replenished in people's hearts and minds?
The enthusiasm that drives people to achieve great things can only occur in the hearts of people who 'own' what they do, and feel that it's 'their' project, 'their' challenge, and 'their' dream. If you give people someone else's dream, tell them exactly what they must do, and show them exactly how to do it, there is nothing left for them to create or feel enthusiastic about. They lose interest because they know that when they succeed it's your method that gets the credit, not their ingenuity. They have nothing much to contribute except just 'following instructions.'
The way to instill the kind of lasting enthusiasm that enables people to overcome negativity, meet the challenges of change, and achieve great things is simple: Give people as much freedom to own, shape, and create their work as possible.
The above article is one of about 50 "Content for Communicators" articles, ideas, and cartoons you can use in your company publication, intranet, or as meetings/ training handouts when you order Content for Communicators from us.