Scope3D Trainer Certification
Trainer Certification for a Three to Six Month Program of Personality, Leadership, and Team Assessment, Development, and Action-Learning. Learn to Deliver this Powerful Assessment and Development Program for Employees or Clients
This is one of our most comprehensive programs, delivering a wide range of assessments and development, to individuals or teams, covering today's most vital topics and skills.
You get certified online to run, train, and coach others on "The Most Complete Process of Leadership and/or Team Building, Assessment, Development, and Action-Learning Online and On-the-Job Using a Blended Learning Approach".
You will get master reproducible paper assessments on communication, team building, creativity and innovation, to use unlimited number of times with your teams, employees, or clients, in face-to-face coaching or training sessions.
The only additional fees you will need to pay are for additional online assessments you might want for each person, such as DISC, Emotional Intelligence, or Leadership Profiles. You can get these at volume discount price starting at $19 per person, depending on the tool.
This Blended Learning Program offers a mix of online assessment, paper assessment, emailed course of content, action-learning activities to do with colleagues on-the-job, supported by personalized online written feedback coaching.

TeamScope3D: A Complete Online and Emailed Self-Learning Program with Virtual Coaching, Assessment, and Development Using a Comprehensive Scope3D Approach:
Discovery (Assessment); Development (of strengths); and Deployment (Action-Learning to apply the new competencies).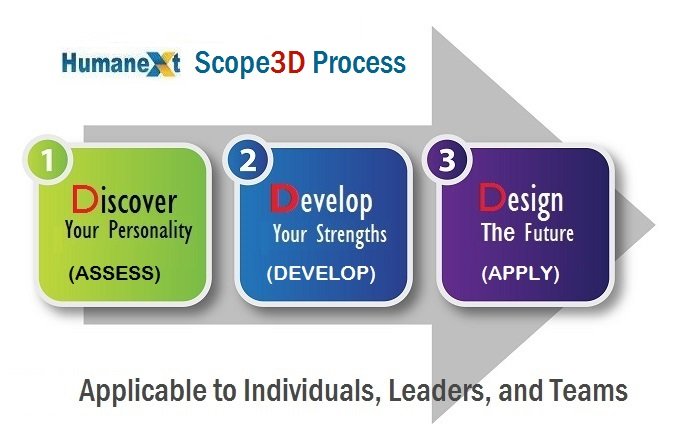 The program is part online and paper assessments, part emailed course, part on-the-job action learning, and part virtual coaching via written feedback on wiki / interactive experience-sharing online. The 3Ds, or three phases of the comprehensive program are:
D1: Discover Your Personality Profiles
In this phase, each member of the team gets a battery of selected relevant assessments, such as communication skills, DISC for individuals / teams, emotional intelligence, culture dimensions, creativity and innovation skills, or others. There is a degree of customization available here.
Usually, three assessments / profiles are selected and used, in a mix of online and paper, to provide a more complete picture of the range of personalities, behavioral patterns, preferences, and possibilities for the team.

D2: Develop Your Strengths
In this phase, each person will get the tools and training needed to develop key skills, covering both strengths and areas of needs. The skills covered are those identified by research as the ones most managers say they pose the most challenge to them and their teams. The three key skills covered here are;

Compelling Communications

Emotional Intelligence

Creativity and Innovation
In addition, people learn to identify their sets of strengths, and ares of needs
D3: Deploy Your Gained Skills
In this important phase, absent from almost all other development programs offered today, team members get Action-Learning tools, tactics, models, and activities that enable them to learn, practice, and deploy new skills right on the job.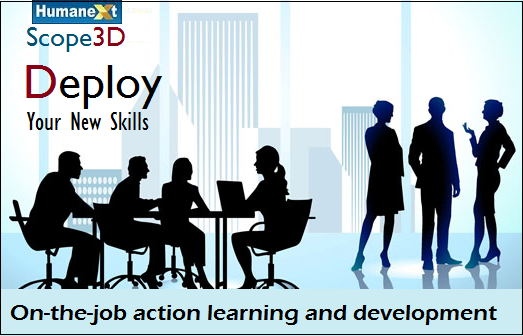 This "Deploy" phase offers team members the vital opportunity to put their newly discovered personality traits, and developed strengths, to work. They receive concepts, models, and activities that they put immediately to practice as they communicate, collaborate, lead, and work together.
You will start receiving the program's components by email within 48 hours of receiving your order. Learn and apply at your own pace, while receiving written coaching feedback from HumaNext on our special inter-active website (wiki) where you can post your experiences, thoughts, challenges, and ideas.
Note: Organization Learning Licenses are available for organization-wide, multi-trainer, multi-media delivery. Contact us from the Contact Us page above.