Culture and Organization Change Program and Workshop
Order Today for Significant Savings!
Culture and Organization Change is an off-the-shelf program covering a comprehensive change process, content for a change communication campaign, and a complete in-class training workshop you can deliver to equip people for accepting and managing change. The programs' components will be emailed to you electronically in the following files: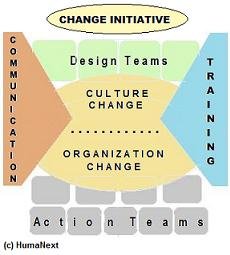 Many organization and culture change programs fail. Yours don't have to. Typically, change initiatives fail because they focus on complex processes and number crunching. In the process, they alienate and lose sight of the people who make the change possible resulting in wasted time, efforts, and resources.
Now HumaNext is offering a model that engages employees to play a vital role in the organization and culture change process. The program covers:
Why and how an organization or culture change initiative can be exciting.
Why change is difficult and how to do it right.
How to communicate change to generate support.
How to get a large number of colleagues excited about change and involved in creating it.
How to use the culture-change effort to support other business objectives.
What training you need to offer to support the initiative.
A step by step Facilitator's Guide / A set of PowerPoint Slides / A reproducible Participant Workbook to make unlimited copies. The electronic program files will be emailed to you within 24 business hours of your confirmed order.