Employee Engagement for Change Training and Process
Order Today for Significant Savings!
A Workshop and Process for Employee Engagement and Change - Two Programs in One

This comprehensive program provides everything you need to create and communicate employee engagement  and change initiatives at work. 
It covers the process of the employee engagement for change initiative; the communication campaign to introduce it to the organization, and the training workshop to deliver to managers and employees. 
Moving from a culture of command and control to a culture of employee engagement requires a change in attitude and behavior, which the program covers with a number of processes that facilitate change. 
Addressing both change and employee engagement, in a process format and a training workshop, this comprehensive package is like two programs in one.

 The concepts, model, and activities inspire people to move from complaining to collaborating. It's one of the most effective type of training you can offer to combat negativity and disengagement at work.
The program covers research results that make the case for employee engagement, the drivers of engagement, the employee engagement for change model, the step-by-step process, how to communicate engagement, and the training on engagement.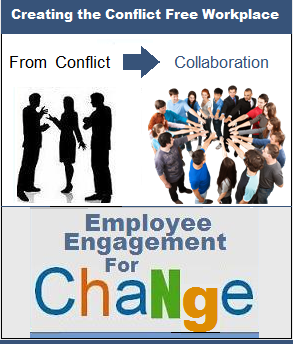 This is an electronic product in MS Word that's customizable to meet your training needs. It comes with a detailed Facilitator's Guide, PowerPoint slides, and reproducible Participant Workbook for unlimited copies to unlimited trainees. The electronic program files will be emailed to you within 24 business hours of your confirmed order.