Highly-Human RelationShifts
Save $200
Two Powerful Programs in One: A full-day RelationShifts workshop + Six-Month On-the-job Action Learning / or classroom training, in One package designed to help you foster a culture of "Highly-Human" relationships at work.
This Highly-Human Program consists of two main parts:

Part A: RelationShifts Workshop
This is an off the shelf customizable training workshop package that creates team transformation experience, changing how people relate to their work, their colleagues and their organization. The result is a totally rejuvenated team working on a higher level of commitment to achieve results. RelationShifts is a unique team building / team transformation program that goes beyond traditional training.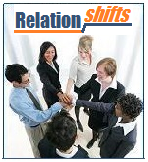 Intensive half-day or full-day training workshop that is significantly different from traditional team building and organization change training.
Purpose: Empowering People to Shift to Higher Levels of Relationships at Work.
This unique experience enables participants to create a dramatic change in the way they relate to their work, their colleagues, their organization, and their customers.
The result is a totally rejuvenated team working on a higher level of commitment to achieve extraordinary results.
This is an electronic product in MS Word that's customizable to meet your classroom workshop or action-learning needs. Included are a detailed Facilitator's Guide, PowerPoint slides, reproducible Participant Workbook for unlimited copies to unlimited trainees.

Part B: Hi-Human Interaction "Action-Learning" Materials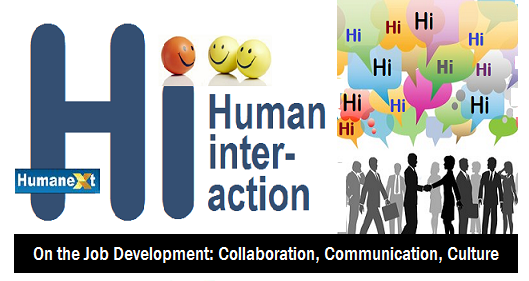 A six-month program of practical, on-the-job learning and development for individuals and teams, delivering a flow of tools, tactics, and activities that can transform the way you and your team, or your trainees, work, relate, and communicate on the job. You can use the program on its own, or as support and follow up to other live or virtual training you offer.
While technology is bombarding people at work, this program is all about positive, effective human interaction that builds cohesive teams and produces results. It delivers on-the-job action learning activities, exercises, assessments, peer learning and coaching.
The drive for human interaction is a more powerful force than appreciation or motivation. It does not come to employees from the outside. It springs from the inside, driven by people's basic need for socialization and self-actualization within a social environment. The "Hi" program delivers tools and tactics for exercising autonomy and decision-making, for applying own creativity and emotional intelligence, for exercising human-based communications and positive interactions.
"Hi" delivers to your email a wealth of individual and team-based actions, activities, best practices, reproducible tools, tactics, and training to engage and develop yourself and engage your team or trainees, plus reproducible paper and pencil assessments.
People can do most of the activities as they work, with their colleagues.



You end up creating a culture and practice of on-the-job learning and development for your team, with almost no time needed away from work, as you and your team do the activities during regular team or department meetings, and / or on-the-job as they interact with others.

This can also serve as an excellent "after training follow-up" to supplement your classroom or virtual training with on-the-job action-learning.
For Six Months You get:

- 24 emailed files, 4 per month for six months, delivering a flow of actions / activities / assessments / and assignments for you to use to engage and develop others one-on-one as a coach, or one to group as manager, team-leader, or trainer/ consultant. You will receive the files for the four weeks of each month in one mailing in advance to give you more flexibility.
The contents include concepts and activities covering the following:
- Communication assessment profile and tools / tactics to enhance interpersonal communications, and
- Tools and tactics to enhance ability to think creatively, generate ideas, and solve problems.
- Concepts and tactics to develop and apply emotional intelligence within yourself and with your team.
- Performance excellence and productivity ideas and applications.
- Collaboration and teamwork tools and tactics.
Hi (Human Interaction) for Leader / Trainer is a continuous program of activities for learning and development, coaching, and team / employee engagement for one trainer / leader to engage his or her team for 6 months or more. The activities cover vital topics and skills like employee engagement, emotional intelligence, employee communications, team communication, work culture, creating positive relationships at work, applying creative thinking at work, tools to enhance performance, methods for doing great work, and many others.
These actions, activities, and concepts are some of the tools, tactics, and best practices used by America's leading companies like Disney, Facebook, and Apple. You get tools, activities, and exercises to use in sessions with your team to generate solutions and develop skills while building employee engagement.
We will email you the materials once a month in advance to see and review the content for the upcoming four weeks. This gives you the flexibility to use the materials as you need. For example, if you meet with your team more or less frequently than weekly you will have the materials to use accordingly.
The best learning occurs on the job.
That's what research has proven. And HumaNext's "Hi" program gives you what you need to enable managers and teams to learn on-the-job to shape and boost the culture of the team or the department.

This collection of the best on-the-job learning activities, assignments, assessments, tools, tactics, and training can be used for starting an action learning initiative, or as support and follow up on your current onsite or online training.



Benefits of "Hi" Human Inter-Action Learning
People learn on-the-job without having to leave the office to attend classes.

People learn with their own work-team.

People learn while working on their current work projects, helping getting their work done.

The team activities help create a higher level of employee engagement at work.

Many of the activities lead to higher levels of productivity and performance excellence.

Action Learning adds to the value of your other training efforts, and is more visible to management.

The same activities can be used with countless number of teams or individuals, making the program a great value.

The program can be used by managers directly as it needs little or no training, putting no added work on the trainer.
You will end up with a total of 24 files of activities, experiential exercises, individual and team assessments, action-learning concepts, coaching models and tools, and a number of assignments to challenge you and your team.




You will be invited to post your answers to the assignments online (optional) at a special interactive site (wiki) where you can also learn from the experiences of your peers of trainers and coaches from around the world.