Leadershift Lab for Leaders and Trainers
Order Today to Save.
We've Helped Many Managers, Leaders, and Trainers Achieve their Goals and Advance their Careers. This Cusomized Program Will Help You Too. You can also use the materials to train and coach your team, your employees, or your clients.
With Four Live Coaching Sessions with HumaNext President to Give You the Experience Lessons of 25 Years of Leadership Development and Business Practices.
Our LeaderShift  Lab program is a two to four month - depending on your pace - personalized leadership development process, with live coaching sessions with HumaNext's president.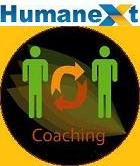 It delivers personal assessments and customized assignments, on-the-job actions and activities, online coaching feedback, and one-on-one live coaching sessions via Skype or phone for steady progress toward building personal leadership capacity and achieving your career goals.


The Program Delivers..
2 to 4 months of continuous learning, self-coaching, and development 

Three live one-to-one coaching sessions with HumaNext President by phone for developing personal leadership.


A battery of online and paper assessments on leadership styles and behaviors, emotional intelligence, creativity and innovation, communication effectiveness, diversity & inclusion, presentations, or as needed.

A flow of assignments for individual development and practice.

8 weekly on-the-job actions and best practices.


A set of tools, tactics, and templates to use in team meetings for team performance innovation.

Personalized focus on your specific leadership development needs and career goals.

6 months of continuous support by email.

You will get the best tactics and tools selected for your specific needs and goals from our related programs