Leadershift for Leaders
We've Helped Many Managers Advance their Careers - We Can Help You Too.
Select With or Without Live Coaching Sessions
Our LeaderShift  program is a three to six month personalized leadership development process, with self coaching, or optional live coaching sessions with HumaNext's president.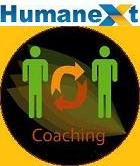 It delivers personal assessments and customized assignments, on-the-job actions and activities, online coaching feedback, and optional one-on-one live coaching sessions via phone for steady progress toward building personal leadership capacity and achieving your career goals.


The Program Delivers..
3 to 6 months of continuous learning, self-coaching, and development 

Optional without, or with 2 or 4 coaching sessions (select above) with HumaNext President by phone for developing personal leadership.


A battery of online and paper assessments on leadership styles and behaviors, emotional intelligence, creativity and innovation, communication effectiveness, diversity & inclusion, presentations, or as needed.

A flow of assignments for individual development and practice.

12 weekly (or bi-weekly depending on your pace) on-the-job actions and best practices.


A set of tools, tactics, and templates to use in team meetings for team performance innovation.

Personalized focus on your specific leadership development needs and career goals.

3 to 6 months of continuous support by email.