Learning Leaders
Introductory $500 off for a limited time!
Online program that delivers the competencies, coaching, training, assessments, workshops, and certification you need to become a learning leader for your organization, enabling you to master and deliver today's latest methodologies.
Today's trainers must play various roles to meet the demands of their jobs and become effective leaders. The Learning Leaders Program by HumaNext gives you the skills, tools, and training to play these different roles and advance your career.

You learn online at your own pace to become an effective leader of learning playing the following key roles:

The Roles You will Learn to Play, and Deliver:
A powerful coach and mentor to managers, employees, and clients helping them achieve great goals and advance their careers


A workshop facilitator and trainer capable of leading training sessions on any topic with more power and impact, winning the hearts and minds of participants every time


A certified expert in your choice of topics like emotional intelligence, inclusion, innovation, critical conversations, employee engagement, culture change, or other topics


A leader of learning possessing key competencies on leadership development, team training, blended learning, action learning, with materials you can use unlimited times with unlimited employees or clients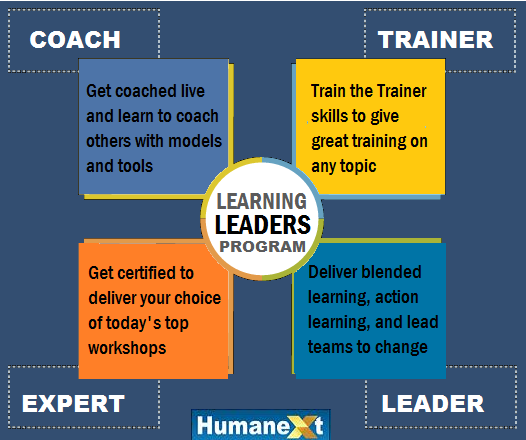 Choose from these Top Topics

You can choose to become an expert in one of these workshop topics and get certified online to deliver it to unlimited employees or clients.

Can add one or more workshop topics at a small additional fee- the most effective way to boost your expertise and exert your leadership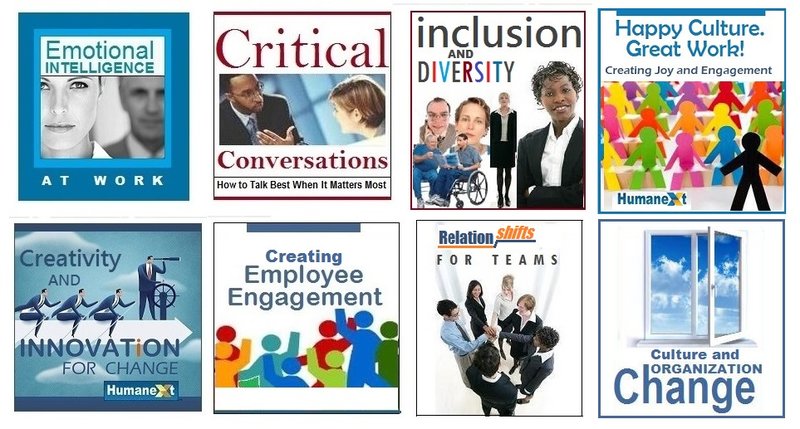 Learn at your own pace, spending from 4 weeks to 4 months




Learn online via webinars, peer learning and written coaching, MS Word and PowerPoint files, and a wealth of models, methods, tools, assessments, assignments, and exercises.




Three live coaching sessions by phone with HumaNext president.




Do on-the-job activities and practice




Do assignments at a special interactive website (Wiki) where you post your assignments and also learn from what others have posted, gaining great insights and real-life lessons from a source of varies and rich experiences of trainers, leaders and consultants from around the world.

Flexible learning that treats you as an adult and teacher not just learner. You tell us when you are ready to move from one role to the next. (the four roles of Coach, Trainer, Expert, and Leader.)

Upon completing the program, you will receive by email a Certification of Completion of the Learning Leaders Program by HumaNext.