10-Minute Meeting Boosters with Activities and Assessments
Order Today for Significant Savings!

Example of 10-Minute Meeting Boosters: Thanks for the Memories Exercise
(These boosters, actions, activities, and concepts are some of the tools, tactics, and best practices used by America's leading companies like Google, Dell, Apple, GE, 3M.  You get tools, activities, and exercises to use in sessions with your team to generate solutions and develop skills while building employee engagement).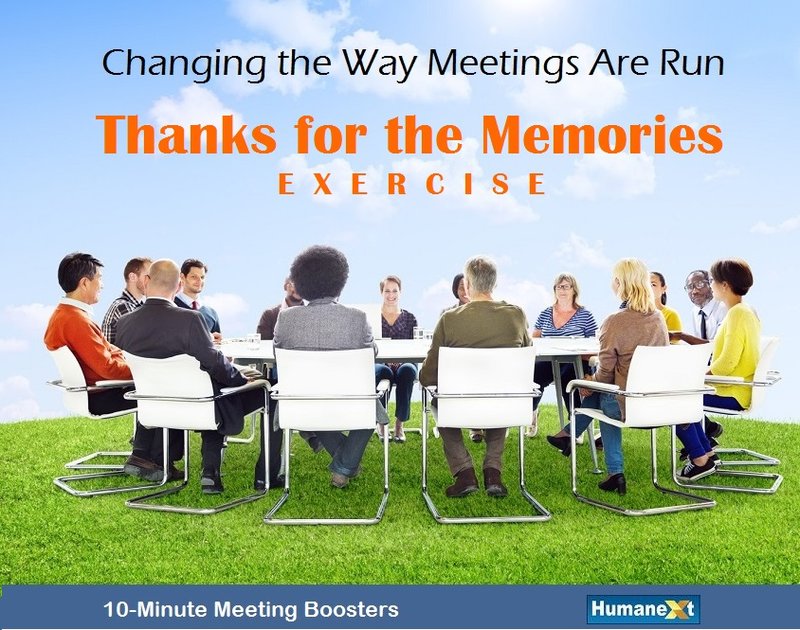 Purpose:
-        The purpose of the "Thanks for the Memories" exercise is to quickly review past accomplishments of the team as a whole by reviewing and saying "thanks" to each member's role and accomplishments.
-        The exercise creates good feelings among participants, renews self-confidence, provides a panoramic view of the work done, and ends the period on a high, positive note.
Days Before the Meeting:
Two or three days before the meeting, send participants an email along the following lines:
-        Next meeting, we will do an exercise called "Thanks for the Memories". I'm asking you and each participant to prepare a concise list of accomplishments we have achieved over the past period.
-        For each accomplishment on your list, write the names of everyone who participated or played a role in it.
-        At the end of your list, if any person attending the next meeting has not been mentioned, write their names separately and make sure to list for them at least one accomplishment that might not be related to anything on your list.
-        During the meeting, you will draw a name of one of the participants. You will then share with us what you listed in your list attributed to that person as to his or her role in the accomplishments, or in any other thing they have done for which you want to say, "Thanks for the Memories".
-        At the end of the process, which might take 10 to 20 minutes, we would have covered several of our accomplishments as a team, while giving thanks and recognition to each one of us for their role.
-        The idea is to end this period on a high note, giving recognition and thanks. 
((For the full exercise and many more like it, get the complete "10-Minute Meeting Boosters" program. See below..
.....................................................................................
Activities and Tactics to Boost All Meetings, Engage Your Team, and Change the Work Culture.
Materials to cover six-months of practical meeting boosters for department and team meetings. This program delivers a flow of tools, tactics, and activities that can transform the way you and your team meet, work, relate, and communicate on the job. Activities are designed for fast application of concepts and techniques to take about ten minutes of your meetings. Some activities will need to be learned during the meeting and then applied later on-the-job for significantly improving performance.
While technology is bombarding people at work, this program is all about positive, effective human interaction during department or team meetings, or any other meeting. You will get weekly activities, concepts, and exercises that produce better meetings, build cohesive teams, boost relationships, and produce results.       
You end up creating a culture and practice of team-development and performance improvement with no time away from work, as you and your team do the activities during regular team or department meetings, and / or on-the-job afterward to boost performance.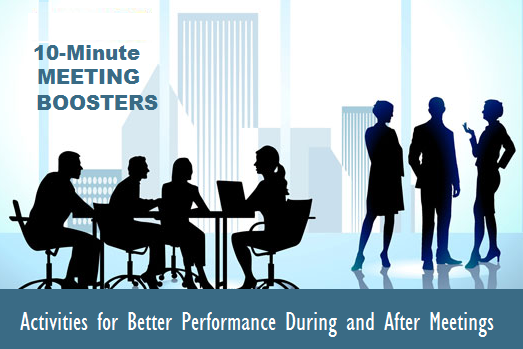 You get: 

A- 24 files delivering a flow of actions / activities / assessments / and assignments for you to use, each for about ten to 20 minutes during your meetings or training sessions to engage, inspire, and boost the performance of your team. Just print / reproduce the MS Word documents to use with your team.
B- The program includes a reproducible communication assessment profile and tool to enhance interpersonal communications, and
C- A creativity and innovation assessment profile and guide to enhance ability to think creatively, generate ideas, and solve problems.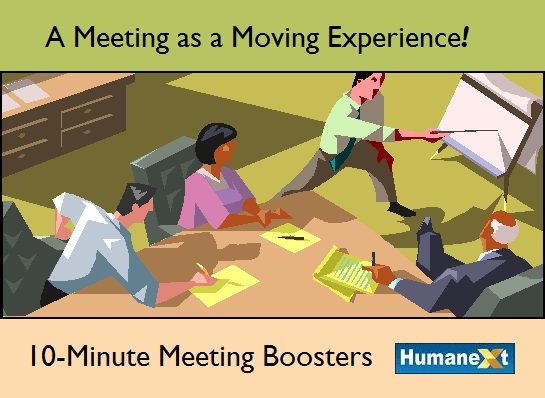 The best performance improvement and development occurs on the job. 


That's what research has proven. And HumaNext's "10-Minute Meeting Boosters" program gives you what you need to inspire and develop better relationships and greater performance on-the-job, without spending time going to workshops away from work.
The same activities can be used with countless number of teams or individuals, making the program a great value.
The program can be used by managers directly as it needs little or no training. Trainers may suggest this program to managers, or purchase it for their use.
You will end up with a total of 24 files of activities, experiential exercises, individual and team assessments, action-learning concepts, coaching models and tools, and a number of assignments to challenge you and your team.