Modern Management Workshops
Learn Five "Most-in-Demand" Workshops in Five Weeks Online, then Deliver to Employees or Clients.
Order Now at $300 off
Most managers are technically and technologically savvy.
But many struggle with the critical people issues and changes that confront them in today's workplace.
These include challenging issues like: Unconscious Bias; Sexual Harassment; Diversity & inclusion; Employee Engagement.
Managers may have high IQ, but many need help with their EQ, or "Emotional Intelligence". What worked in the eighties and nineties, no longer works today. Relevant "modern management" skills are what they need today.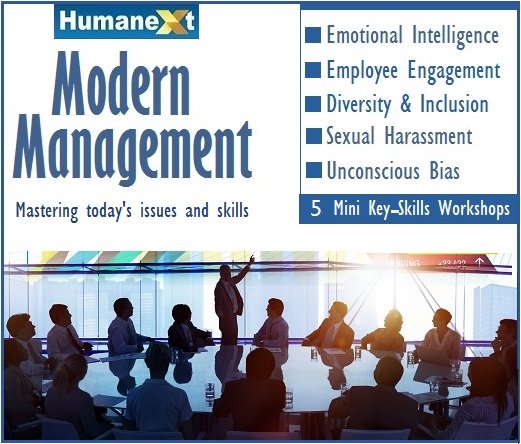 Now you can train your managers or clients on today's critical issues and skills by getting certified online in the"Modern Management" program.
Learn online to deliver five mini-workshops to your employees or clients. The most comprehensive training on today's key issues delivered in a focused, fast-paced experiential learning sessions.
Real-Life Case Study: On May 29, 2018 Starbucks closed all stores to offer its 175,000 employees training on unconscious racial bias and awareness of the importance of inclusion and diversity at work, after an incident that could have caused serious damage to its brand. What about your employees?

The Modern Management

program of five mini-workshops ( two-to-three hours each), delivers the skills people need to act effectively and properly in situations involving issues of unconscious bias, diversity and inclusion, cultural competence, sexual harassment, employee engagement and motivation, and higher awareness of self and others.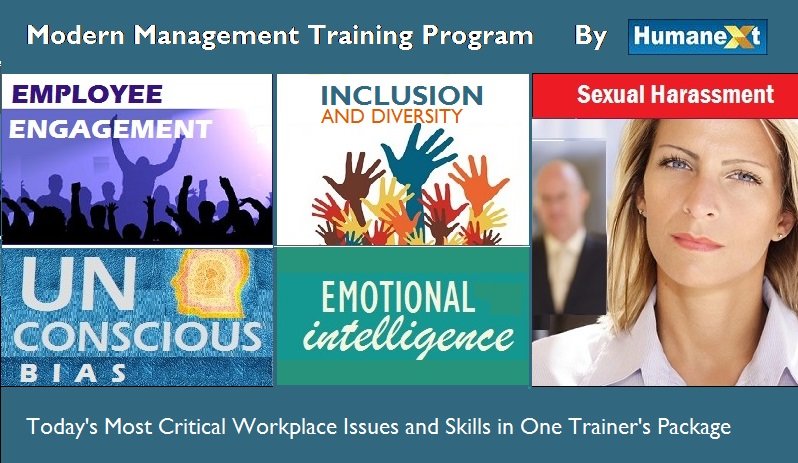 After learning online, you get the materials, leader's guides, and slides you need to deliver five mini-workshops on today's most critical, most in-demand issues and competencies to unlimited number of people, unlimited number of times.
You Will Be Able to Train Managers to Become Fully Aware of Critical Workplace Issues, Covering:
EQ: Managing and communicating with emotional intelligence to inspire people at work.

Employee Engagement:

Develop the key triggers of employee engagement for higher performance


Awareness of Culture

: Developing appreciation of diversity and inclusion of all differences at work.


Awareness of Sexual Harassment

: Understanding the issues involved and behaviors to avoid problems.


Awareness of Unconscious Bias

: Understanding the issues and developing effective behaviors.