Workplace Awareness Certification
Introductory Price at 35% off - Limited Time Savings!
Get certified online to deliver the most comprehensive training program covering today's most critical, most in-demand issues and competencies.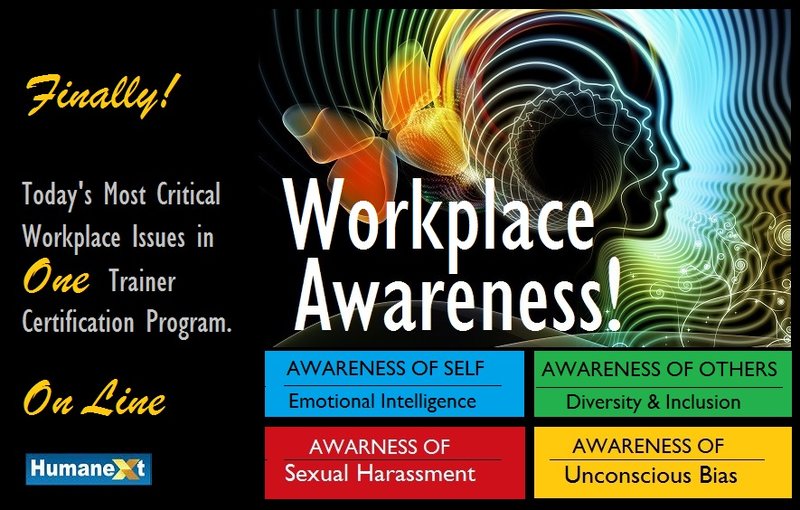 This training uses a no-blame approach that emphasizes research-based social patterns, clarifying ethical, human, and legal implications of counter-productive behaviors. The training delivers ways to apply emotional intelligence to develop higher levels of self awareness that enable people to examine and change behaviors in the key workplace issues involved.
You Will Be Able to Train Employees to Become Fully Aware of Critical Workplace Issues, Covering:
Awareness of Self

: Developing emotional intelligence at work


Awareness of Others

: Developing appreciation of diversity and inclusion of all differences at work


Awareness of Sexual Harassment

: Understanding the issues involved and behaviors to avoid problems


Awareness of Unconscious Bias

: Understanding the issues and developing effective behaviors.

The objective of this uniquely comprehensive program is for you to learn and acquire the ability and materials to train your employees or clients on a host of today's most critical issues and competencies in one online certification process - at significant savings.
Developing Self Awareness as the key for emotional intelligence, and apply EQ skills to relate, and communicate intelligently with people at work.
Developing awareness and understanding of others, as key competencies for appreciating and working effectively with diversity and inclusion at work. Particular emphasis on generational and cultural differences.
Unconscious Bias Awareness:

How we all form social stereotypes about certain groups of people without even being aware of it. Why this is harmful, and how to free ourselves of it, and together create a bias-free work culture

.

The workshop covers both conscious and unconscious biases prevalent in the workplace.

Sexual Harassment Awareness

:

How men and women can work together effectively in a harassment-free culture.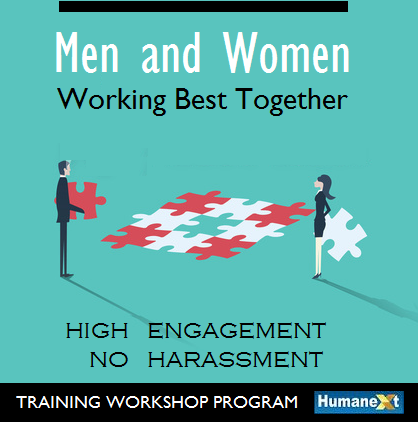 Some major areas of emphasis are:

Harassment-Free Culture: How Men and Women Can Work Together More Effectively
This workshop covers the different ways men and women think, communicate, and work. The research-based content, case studies, and discussions in this area enable the building of a bias-free, harassment-free work culture.
The Advantages of Certification:
You learn to become a great trainer on any topic, then you learn to deliver your chosen workshop.

​

Online certification occurs via MS Word and PowerPoint slides; recorded webinars, a Wiki site for collaborative discussions and contributions, online assignments, and applicable online profiles / assessment.

You determine your pace of learning, moving as fast or as slow as it suites you - maximum flexibility, optimum benefits.

Certification by HumaNext means you get the rights to deliver our program unlimited number of times. Our certification does not give you credit toward an academic degree, but you will receive a printable Certificate of Completion designating you as a

Certified Facilitator

in the subject of your certification.